Berndorf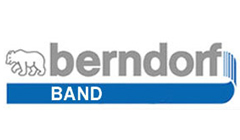 Advantages of steel belts from Berndorf Band

» Berndorf belts are manufactured on modern production lines using sophisticated technologies.

» Every single Berndorf belt is made exactly to customer requirements. Due to this customized manufacturing process, every Berndorf belt incorporates many years of experience coupled with innovative production methods.

» Every belt runs in an endless condition even during production. This guarantees perfect running characteristics and optimal flatness.

» The belts withstand permanent dynamic stress caused by continuous bending and stretching, heating and cooling over a long period of time.

» Customers can inspect the belts they order in the factory prior to delivery.

» Berndorf engineers and process technicians offer expert consultation.

» A world-wide operating service network, steady development of new maintenance and repair tools as well as work techniques and a broad training offer give proof of the outstanding care Berndorf Band takes about its customers.
Berndorf Web Site