Treffert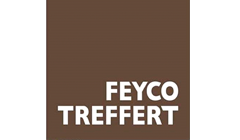 FEYCO TREFFERT derives from FEYCO AG and the TREFFERT Group. Two former sister companies that have vast experience in providing coating solutions for wood.

» With locations in Germany, Switzerland, China, Malaysia and the USA
» 380 dedicated employees worldwide
» we produce more than 30,000 tons of lacquers per year
» for over 9,000 customers.

The FEYCO AG and TREFFERT Group are part of the Looser Holding AG, an international industrial holding company headquartered in Arbon, Switzerland.
Treffert Web Site