VITS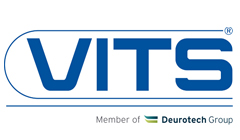 Vits is your partner since 1928.
Impregnating, coating, cross cutting and contact-free drying are our core competences - we are a strong partner for the furniture and flooring industry !

Member of Deurotech Group
Since May 2015, Vits Technology is a member of Deurotech Group. Together with our long-term partners Deurowood and Wessel-Umwelttechnik we advise you on development, production, sales and service for tailor-made impregnation and coating lines.
The Vits know-how is about treatment of web-handling materials:
» Paper
» Printed prepregs
» Finish Foils
» Carton
» Non-Woven Materials
» Woven Fabrics
» Carbon Fibre
» Polyestre Film
» Technical Special Papers, etc.
VITS Web Site
Speeds melamine: up tp 90 m/min
Speeds phenolic resins: up to 150 m/min
Working Widths: up to 2,7 m
Heating: gas / thermal oil / steam

» Plant configurations: one-stage up to three-stage
» roll-to-roll or roll-to-sheeter production
» ARP-coater or scattering device for flooring
» optional: cut-to-mark, basis weight and moisture measurement
Speeds melamine: up to 120 m/min
Speeds phenolic resins: up to 300 m/min
Working widths: up to 3,0 m
Heating: gas / thermal oil / steam

» Plant configuration: two-stage or three-stage design
» roll-to-roll or roll-to-sheeter production
» ARP-coater or scattering device for flooring
» optional: cut-to-mark, basis weight and moisture measurement
» fully automatic web feeding