Firefly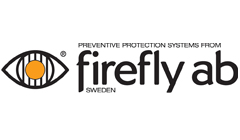 Firefly is one of the world's leading supplier of spark detection, fire and dust explosion protection systems. Firefly develops, manufactures and sells high-tech systems, which detect and minimise the risk of fires and dust explosions. The company was founded in Sweden in 1973 and has over 40 years of experience in supplying systems for the leading process industries.

Each customer is offered unique solutions based on a range of patented components and functions. With customized fire prevention systems, covering everything from spark detection and water spray extinguishing to flame detection and water mist suppression, Firefly monitor industrial processes in areas such as woodworking, tissue, food, bioenergy, and recycling.

Firefly co-operates with leading experts and institutions around the world to develop safe high-quality solutions. The company is represented worldwide and sales are made both directly to customers and through distributors.
Firefly Web Site