Surteco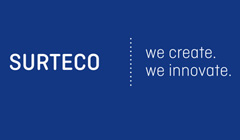 HANEX represents Decorative Papers part of SURTECO SE - SURTECO DECOR in Turkey. SURTECO DECOR uses rotogravure printing top rint and refine specialist papers for industrial surface enhancement with decorative textures. This process creates productes for evertday use to provide extremely hardwearing furniture surfaces and laminated flooring with highly sophisticated designs.
SURTECO SE is a leading global provider of surface technologies in the area of decorative flat foils and edgebandings based on specialist papers for technical applications and plastics. The objective of SURTECO SE is to continue expanding its global presence through internal and external growth in this area.
The Group network creates additional synergies for flexibility, product range and cost-effectiveness through cooperation between SURTECO DECOR, BauschLinnemann and Döllken – the plastic edgebanding specialists, Gislaved – the plastic foil specialist manufacturer and the foil and edging producer Kröning.
The SURTECO SE product portfolio also includes melamine films, roller-shutter systems, skirtings, specialist extrusions (profiles) and commercial goods for sale in DIY stores. But the best aspect about the network is that the global and closely integrated sales network and international production locations guarantee uniform certainty of supply and support for our customers across the world.
Decorative Paper Web Site

http://http.surteco.materialo.com/
Surteco Web Site
Using rotogravure methods, SURTECO DECOR prints and finishes special papers with decorative textures, for industrial surface finishing. This creates products which we encounter in daily life in the form of very hard-wearing furniture surfaces or laminated floors with demanding designs.

DAKOR
DAKOR Melamin Imprägnierungen GmbH is one of the leading developers and manufacturers of products and a partner in the field of surface finishing for furniture and floors. DAKOR overlays, surface print films and balance layers are creating new standards of durability, process capability and quality.

www.dakor-melamin.de

SÜDDEKOR LLC
Today SÜDDEKOR LLC is the only US décor company which can offer its customers a complete product service, ranging from scanning a template via the creation of engraving data for gravure cylinders and the actual engraving, followed by décor printing and processing of the paper on state-of-the-art machinery.

www.suddekorllc.com

SÜDDEKOR ART
SÜDDEKOR Art Design + Engraving GmbH is an ultra-modern, creative and innovative design and engraving centre. Decors for the furniture and flooring industry are developed here, and rotogravure and embossing cylinders for laminates, PVC and LVT are engraved using the most powerful fibre laser available (max. 5080 mm wide x 2080 mm circumference)

www.sueddekor-art.com

BauschLinnemann
BauschLinnemann offers decor and surface solutions with matching surface print and colours from floor to ceiling. Rather unique in our industry! Whether the application is for surfaces, for enveloping or for melamine edges – all of these can be implemented for the timber processing industry.

www.bauschdecor-bauschlinnemann.com

PORTFOLIO

FINISHFOLIE – TECOFOIL
Foils from SURTECO DECOR and BauschLinnemann are available in a wide range of surface qualities and with an extensive spectrum of features. The choice of the right surfacing is very much based on the specific requirements of the customer. The SURTECO DECOR technical teams can provide expert advice when it comes to choosing the foil which is best suited to your particular application.

EDGEBANDINGS – TECOLINE
Edgebandings for industrial processing of furniture and wood-based materials have to satisfy two primary criteria. They need to be robust and if necessary they should provide a perfect match with the surface decor. Melamine edgebandings based on lightfast, specialist papers are printed with single colours, wood-inspired or imaginative designs and they are impregnated with duroplast resins. They are then coated with environmentally friendly lacquers and various mechanical and/or chemical embossings.
This process creates exceptionally high-quality edgebandings on a roll which can be perfectly matched with other surface systems including veneers made of wood and harmonized with any surface decor.

SELF-ADHESIVE FOILS - TECOSMART
The BauschLinnemann self-adhesive endless foil has a paper-based decorative surface. It can be easily bonded by hand or glued on appropriate laminating systems. Air-flow technology removes surplus air during the coating process and air bubbles can easily be pressed out by pushing them to the edges. Depending on the substrate, the foil can be removed at any time without leaving any residue behind and complies with the finish-foil resiliences in the furniture industry. The surface options available are virtually unlimited: lacquers are supplied in different gloss grades and finishes, options for chemical and mechanical embossing and much more besides. Our HAPTIC surface in finish-foil quality is unique in the sector. The textures here create visual impact as well as being tangible to the touch.