Deurowood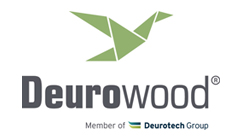 Since more than 10 years Deurowood supplies the global forest products industry with additives and catalysts for the production of melamine based decorative surfaces. All of Deurowood's high quality products are manufactured solely at its site in the western part of Austria near Lake Constance.

From here they are shipped throughout the world. But Deurowood is not only a universal supplier of high performance additives for the impregnation process. It is also its superior customer service and know-how which makes Deurowood the preferred partner and solution provider for its worldwide customer base.

Deurowood Produktions GmbH is a member of Deurotech Group which was founded in May 2015. Together with our long-term partners Vits Technology and Wessel-Umwelttechnik we advise you on development, production, sales and service for tailor-made impregnation and coating lines.

Deurowood Web Site
Every product solution depends on a number of different factors. Whether you are better off with a standard product or an individual solution. We will help you to find the best solution for your requirements. With our high Quality adapted to your process´s specific conditions, you will experience minimal reject rates.
Due to the intensive collaboration with our partners IFA and VITS, we are always at the forefront of the industry and new developments. Got a particular type of challenge? Our specialists would be happy to advise you and will work with you to devise a product solution.
Looking for a product solution? We have the right range.
Be it a standard solution or tailored formulation, we offer an extensive product range to meet your challenges and requirements. We are only one of a few suppliers that offer you professional additive solutions for practically every area of high-quality paper impregnation: for simple handling, increased process speeds and significant reduction of reject rates.
As application and use of our products depend very much on the specific local process parameters we strongly recommend a personal consultation with our specialist to choose the right solution.
For a detailed view of Deurowood's comprehensive portfolio please visit
www.deurowood.com
Optimal impregnation processes depend on a number of factors. We understand your needs at Deurowood.
High quality products next to professional service and personal support are the key ingredients for our global reputations as your personal solution provider.
We are your partner for the entire value chain – from the resin to the laminated board.

Therefore, our service and consultation are above all: fast, personal, straightforward, and available throughout the world. Your personal technical sales manager is only a phone call away.

Our support is not limited to the most efficient application of our products but also includes the identification of saving potentials. We support your projects with laboratory analyses and documentations, and provide downstream support.

We have established an international network of distribution partners that provide local service in your language. In combination with reliable logistics partners and innovative processes we offer you a decisive time advantage through short lead times and just-in-time production.